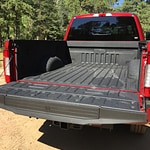 When it comes to heavy-duty trucks, you want to make sure that it will last. That's why the Ford Super Duty is a popular heavy-duty truck. This work machine can do it all. Here's a look at the top durability features of the Ford Super Duty.
The Ford Super Duty is the only heavy-duty truck that comes with a high-strength, military-grade, aluminum-alloy body. That allows the Super Duty to better handle anything that you throw at it. With this tough design, you know that the Ford Super Duty will last. The Ford Super Duty also comes with a fully boxed steel frame. This design is 24 times stronger than the previous generation model. Go ahead and put what you need on the Super Duty's bed. This Ford truck will be able to handle it.
See the Ford Super Duty in action. Take it for a test drive at Macdonald Motors. We'll make you a top deal.