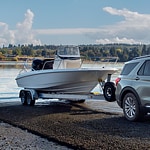 With the Ford Explorer, the name says it all — this is a vehicle that's made for fun. Whether your family is up for winter ski trips, summer camping, or anything in between, this popular three-row SUV is up to the test.
We at Macdonald Motors know that control is a must when you're traveling with kids. The Explorer's available intelligent four-wheel drive system delivers, even if you love to drive in slippery or wet conditions. It uses the Terrain Management System to adapt to virtually any type of ground, from deep snow to deep sand.
Do you ever drive through the open prairies or high on a ridgeline? If so, you know that wind gusts are a common occurrence. With the Explorer's sidewind stabilization technology, the SUV counteracts the wind automatically for an easier drive. Want to try it out? Come to our Center Conway location to test-drive the Explorer today.