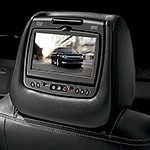 Whether you're at home or on the road, we at Macdonald Motors know that you probably rely on technology for efficiency. The Ford Flex, a popular three-row midsize SUV, is built with smart tech features that keep you safe and make every journey a bit easier.
When it's time to park in Center Conway, the Flex's available active park assist can be a big time saver. First, ultrasonic sensors help you find a spot with enough space for parking. Then, it tells you exactly when to shift gears and step on the gas or the brake as it steers you perfectly into place.
As you back out of a parking spot, the standard rear view camera snaps into action. A live video shows on the screen, complete with guidelines for safer navigation. See how it helps you get out of the driveway safely by test-driving the Flex from our dealership.